Favorite Finish | Contrast and Depth on Aluminum
Guest Blogger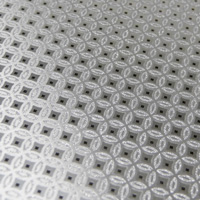 This article is part of a series from my co-workers on their favorite finishes. Leah Flock, our guest blogger this week, chose a dimesional silver finish from patterns available for review with our Disc Collection. This is one example of how texture can be used for ornamental decoration, enhancing the background with an intricate jewel-like design.
See more fine detailed finishes which illustrate contrast and depth on aluminum within the Bejeweled Surface Collection.
PAT-4200-A caught my eye by the way it pops out in the light and how you can move it and each time see it a different way.
Leah Flock Customer Service Representative

Leah is part of the Nameplate Customer Service team who works closely with key accounts and the Sales group to ensure timely processing of quotes and orders.
What is your favorite finish? Share your thoughts below!