Favorite Finish | Contrast and Depth on Aluminum
Guest Blogger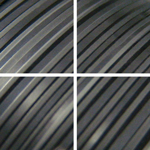 This article is part of a series from my co-workers on their favorite finishes. Holly Schamens, our guest blogger this week, chose an organic finish from patterns available for review with our Disc Collection. This reference tools is a frequently asked for item and has sparked comments about its usefulness - the discs provide a small physical sample of finishes on aluminum in a variety of colors, structures and themes.
PAT-4109-A caught my eye immediately with it's shine and contrasting gloss levels. Another interesting part of this finish is how the texture is selective. It looks very rich and the deep black dances around so beautifully in the light.
Holly Schamens Customer Service Representative

Holly is part of the Nameplate Customer Service team who works closely with key accounts and the Sales group to ensure timely processing of quotes and orders.
What is your favorite finish? Share your thoughts below!