Silver Aluminum Finishes Make Impact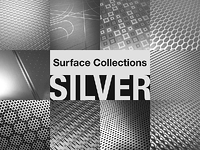 This summer finishes from Surface Collections have been compiled into design ebooks. The latest Silver Surface Collection has received hundreds of views and downloads. Thank you! Expect to see more in the near future! Share your ideas and wish lists below for your favorite aluminum finishes.
With the popularity of the silver color theme, I have pulled some of the finishes into a video summary. Enjoy!