Most Popular Posts of 2012 | Surfaces on Aluminum Blog
With the year over, I thought it would be interesting to see which articles were of most interest to you in 2012. It's a fascinating exercise to see what resonated most with you as we look back on the year through our blog.
1. Aluminum Finishes Inspired by Woven Wire Mesh
Thick strands of metal woven together create 3-dimensional mesh structures which translate into interesting surfaces on aluminum.
Read More

2. Dark Brushed Aluminum Finish | Inspired by a Saucepan
A saucepan with a near black brushed finish caught our attention.
Read More

3. Black Textured Aluminum
Combinations of matte and glossy layers.
Read More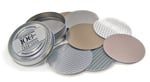 The designer disc collection features a cross-section of finishes on aluminum. The pattern samples are labeled for easy identification. Request a disc collection to begin exploring the variety of textures and finishes available for nameplates and labels.