2013 Detroit Auto Show - Featured Aluminum Trim
We recently attended the NAIAS in Detroit. There was an increased usage of decorative aluminum trim overall from dash panels and door rails to consoles and switchplates. Here's an overview of vehicles that feature Northern Engraving's aluminum trim.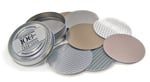 The designer disc collection features a cross-section of finishes on aluminum. The pattern samples are labeled for easy identification. Request a disc collection to begin exploring the variety of textures and finishes available for decorative trim and product branding.