50 Shades of Gray | Classic Decoration for Aluminum Trim and Nameplates
50 Shades of Gray - Favorite Finishes
A recent post on the Kitchen and Bath Business blog discusses the popularity of neutral color palettes for kitchen design. It indicates a growing trend in the past year towards warm grays as well as blending of colors to create a soothing environment. This trend can be seen carried over into aluminum trim and nameplates.
When it comes to reviewing the basic foundation for decoration on aluminum, discussion typically starts with some shade of gray. From cool gun metal or black chrome to warm earth tones, gray is without doubt a timeless color and a natural point of reference when decorating aluminum. It continues to be popular for color development and be a reliable finish for trim and nameplates.
From bright to brushed aluminum surfaces the possibilities are wide open. Start with a transparent tint and then define a gloss level. Layers of finishes and textures on aluminum create even more depth and interest. No tie or gimmicks required.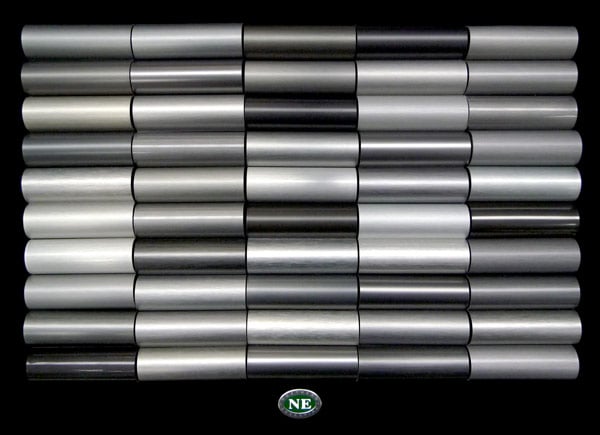 Click the image for a closeup view and to see aluminum finish identification.
Judy Webber Design Sample Coordinator

Judy works in the Northern Engraving Design Center. She is responsible for filling sample requests and assembling displays. This article is part of a series from my co-workers on their favorite finishes. Judy Webber, our guest blogger this week, chose a selection of gray finishes.
How will you use color to elevate your aluminum trim or nameplate? Let's talk!