2016 Aluminum Holiday Card
Each year our Design team takes a look at popular and trending decorating processes used across the globe in industries from automotive and appliance trim to motorcycle badging and cosmetic appliques. This review sparks inspiration for the annual Holiday Card as a way to showcase processes and decoration options on aluminum.
It's always a treat to see what is in the works and then to watch it evolve and take shape. This year's card has a simple, yet elegant design - taking cues from the popularity of matte black denim tones with high gloss tints of color enhanced with mechanical finishes.
2016 Aluminum Holiday Card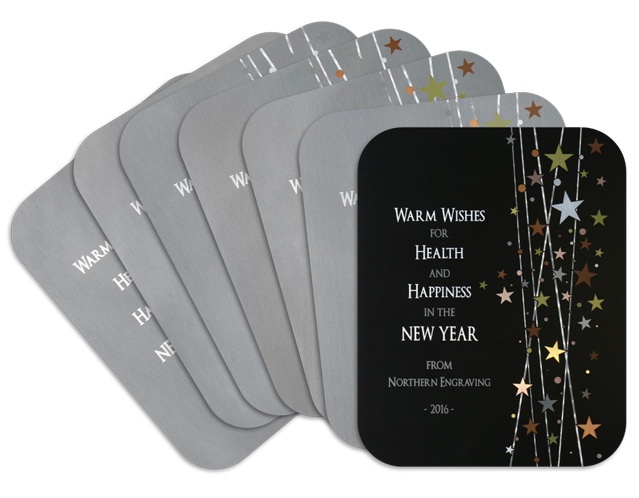 Matte Black Background Finish
Sometimes the most simple of colors is just what is needed to elevate the look of a part. The matte black background sets the canvas for the decoration on this year's card. It is soft and invites a stroke of your hand, much like that favorite pair of black denim jeans in your closet.
Rose Gold and Copper Tints of Color
Metallic tints are a popular finish driven by the maximalist trend and a desire for an over-the-top aesthetic. Precious mixed metal tints are a key focus. Combining these tints over multiple directions of brushed and polished aluminum create soft iridescent shimmers of coppers, yellow and rose golds.
Shimmering Details
One of the neatest ways to add some glitz to either aluminum trim or nameplate design is to include a mechanical finish. The look of shimmering tinsel on this year's card is achieved with engine turned aluminum. The glistening strands catch light as the card changes angles so that there is a look of inlaid jewels.
How It's Made
Sit back, turn on your speakers, sip a cup of egg nog and let this quick video walk you through step by step the layering of processes used to create this year's card. Enjoy!
Related Posts
Black on Black Decoration for Nameplates
Rhythm | Earth Tones with Mechanical Finishes in Aluminum Mood Board
MoveUp | Elegant Aluminum Surface Collection
ExtraOrdinary | Inlaid Aluminum Surface Collection
Decorative Aluminum Inlays