Go Beyond the Obvious with Aluminum
A Blank Canvas
Aluminum is a blank canvas for design. Build on it to create a surface that speaks to your vision. The finishes which can be achieved are as diverse as the customers that purchase your product. Finishes can be authentic, modern, powerful or elegant. Explore the possibilities in our surface collection gallery.
The Possibilities are Endless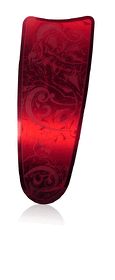 Layering of processes brings unique depth and dimension. The finishes above are great examples of the exploration of printed color and design on aluminum. The surface is interactive and "flips" around creating a multi-dimensional piece. Below are some more examples of surfaces on aluminum that go beyond the obvious.

Request samples of aluminum finishes
to begin exploring the possibilities available to you in designing custom finishes on aluminum.