Bold Graphic Aluminum Finishes
This series of finishes contrasts brushed and bright aluminum with black, balancing positive and negative shapes. The modern designs match up circles and squares in large and small sizes.













(from left to right, top to bottom)


PAT-3357-A, PAT-3375-A, PAT-3358-A, PAT-3376-A, PAT-3377-A, PAT-3379-A

*patterns not shown to scale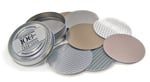 Request a disc collection to begin exploring the variety of finishes available for panels, overlays and decorative trim.