Faux Leather Finishes on Aluminum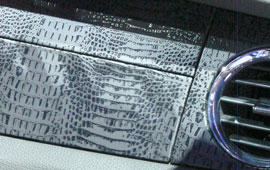 The natural beauty of animal skins has always been appealing for product design. The ability to match these unique structures on aluminum minimizes the effect on the environment while taking advantage of the versatility of aluminum trim manufacturing.
Ford designers carried their custom theme across the aluminum trim in the Mustang concept car with this decidedly non-aluminum finish. The wrapped leather trim is aluminum printed with a custom faux leather finish. A screen printed texture adds to the three dimensional effect.
Faux Leather Finishes on Aluminum Trim
This series of aluminum finishes further explores and translates authentic leathers, from exotic skins to shagreen, onto metal. All can be applied selectively and integrated into trim with selective graphics or brushed accents. Faux leather finishes combine with any of the finishes from our library of aluminum finishes to create a unique trim piece.
How would you integrate a faux leather finish into trim? Would you customize the color? What finish would you combine with a faux leather finish to create the look and feel of luxury?
Request samples of faux leather finishes on aluminum to see the variety of options available to you in integrating these structures into your trim.