Favorite Aluminum Finish | Precise Technical
This is the second article in a series of articles featuring notes from my co-workers on their favorite finish and details behind the finish. Our guest blogger is Scott VonRuden. It is interesting that Scott chose a finish that requires precise registration. Scott works with registration of finishes every day in his role as screening machine operator in the Northern Engraving Design Center.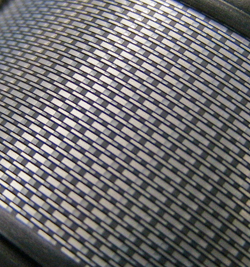 My favorite Finish is PAT-3860 which has been done in various colors. It has four screening operations with very tight registration which can be difficult to run. When all four operations are put together properly (i.e. on register) the end result looks good and is worth the effort put into making it. The first operation is a resist which can be used with a number of mechanical finishes such as brush, engine turn, engine stripe or what ever one would request. The colors that could be used can range from subtle grays and blues to golds and silvers. The sky is the limit for the colors that could be used on this pattern. Opaque colors are an option too. The last two operations are screen printed textures, which can also have color added to them. Or a soft-touch could be used to get a rubbery feel in the end result. This finish could be used in numerous nameplate appliqués such as golf clubs, kitchen appliances and maybe even cell phones, with the soft-touch feel added for and extra effect. This finish could also be used on automotive parts such as sill plates, door trim and to knob inserts. Northern Engraving is versatile in all of the above variables mentioned. This is how we are able to meet the unique design requests of our customers.

Scott

VonRuden

Press Operator
Scott works in the Northern Engraving Design Center. He is responsible for color matching and screening for new finish development and prototypes.
We've had more than one customer apply this pattern to their decorative trim. What are your thoughts on this precisely registered finish on aluminum? Thumbs up or thumbs down?