Piano Black Finish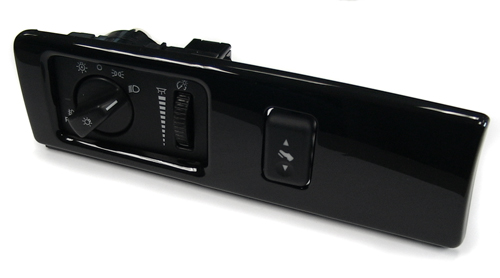 Piano black, the smooth lustrous finish found on the finest of grand pianos, is a stylish option in decorative trim for luxury automobiles. Northern Engraving uses traditional decorating processes to achieve the gloss black finish on aluminum. Aluminum trim allows the premium finish to be incorporated into dash panels, switchplates and consoles creating a look of elegance.
Why Aluminum?
One of the attractive qualities of aluminum trim is its versatility in finish options. Finishes taking advantage of the real metal character of the material feature brushing and transparent tints of color. Textures are printed adding further detail. Other patterns reinvent the metal surface matching faux finishes or interpreting your vision. Piano black is only one example from the library of aluminum finishes. The main advantages of working with aluminum finishes are:
Finishes can be customized to meet the design intent for your product
Most finishes can be applied selectively to trim or nameplates
Finishes can be applied in combination with other finishes
Your trim can be cost-effectively updated with a new finish
What other applications do you see for a piano black finish? Consumer products? A nameplate?
Request a sample of this piano black finish on aluminum to begin exploring the possibilities available to you in decorative trim design.