Custom Metal Ceiling Tile
Decorative Metal Ceilings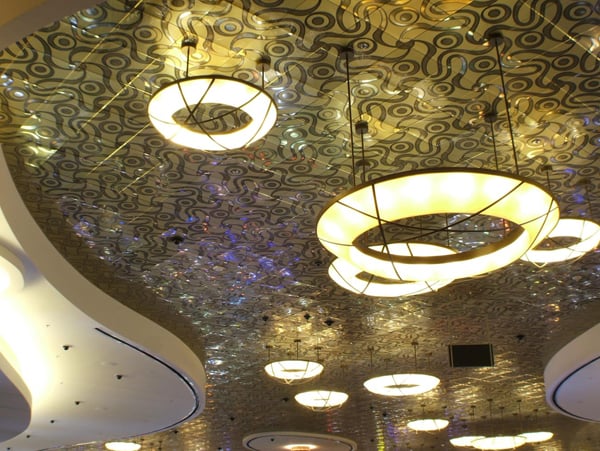 Aluminum ceiling tiles combine mechanical finishes, printing, coating and forming providing an unlimited pallet of unique patterns, textures and color. Collaboration behind a custom tile often begins with a concept drawing. The custom aluminum tile shown here was developed to be an interlocking finish creating a design flowing across the tiles. Our library of aluminum finishes includes many patterns which are created off of a base element which is repeated. The aluminum ceiling tiles are a larger version of this process. Concept drawings explore options in scale, color and overall design prior to committing to prototypes.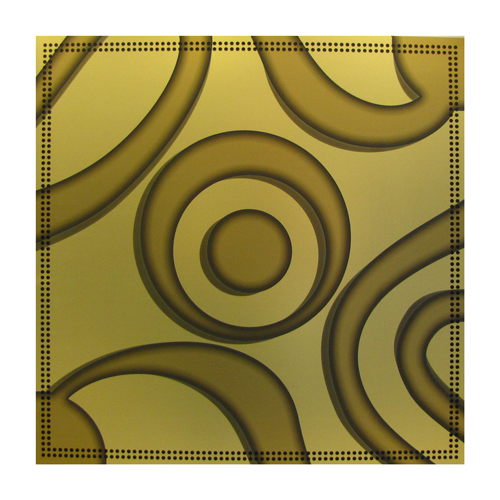 The dramatic ceiling manufactured for Gage Corporation for Foxwoods Casino Resort uses one aluminum ceiling panel to create the interlocking pattern. It takes advantage of the reflective metal using transparent gold for a shimmering opulent ceiling.
We are surrounded by patterns. Have you ever stepped back to look for the repeat in a pattern? What is the base element that makes up the design? Complicated and intricate designs are often made of the most basic shapes.
What ideas do you have for creating a pattern, large or small, based on a single element? What processes would you use to translate the pattern to metal?