Favorite Finish | Eye Catching Carbon Fiber Aluminum Trim
Guest Blogger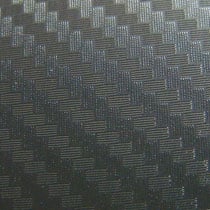 This article is part of a series from my co-workers on their favorite finishes. Pat Wilcox, our guest blogger this week, chose one of the carbon fiber structures on aluminum.
While this particular finish uses black, there is no reason why it couldn't be customized using brown or gray and still look like a piece of woven metal.
This is a great example of how aluminum can be decorated with screened texture and the result is a woven, dimensional finish which can be integrated into the background of a nameplate or used for trim decoration. More woven and carbon fiber structures can be seen in the Woven Surface Collection eBook.
PAT-4447-A makes me want to look at it and touch it. The texture is very rhythmic and eye catching.
This quick video shows how the finish flips and it's easy to see what Pat saw to grab attention. Enjoy!
Pat Wilcox Shipping Manager

Pat manages the preparation of shipping documents and works to make sure that orders follow the specified transportation and routing instructions dictated on customer purchase orders.
What is your favorite finish? Share your thoughts below!