Warm Brushed Aluminum Surfaces
The earthy warmth of natural metals is highlighted through transparent tints of color coated on brushed aluminum. Interactive surfaces reflect light creating highlights and shadows.
(from left to right, top to bottom)


DES-1070-CU, DES-1070-BQ, PAT-3897-B, DES-1070-AW, DES-484-AV, DES-1070-CD

*patterns not shown to scale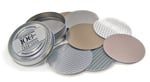 Request a disc collection to begin exploring the variety of finishes available for panels, overlays and decorative trim.