Organic Linear Aluminum Finishes
This collection of organic linear finishes is inspired by flowing ripples in water. The liquid structures give a contemporary feel while still allowing you to see the brushed aluminum beneath.
(from left to right, top to bottom)


DES-513-A, DES-696-A-V2, PAT-4327-C, PAT-4327-A, DES-1070-V, DES-526-A

*patterns not shown to scale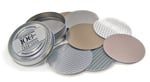 Request a disc collection to begin exploring the variety of finishes available for panels, overlays and decorative trim.