Aluminum Pinstripe Finishes
Jet black and brushed aluminum juxtaposed against bright and frosted silver. Pinstripes, a time-tested patterning that conveys an educated edge and is both poised and perfected.
(from left to right, top to bottom)


PAT-4492-C, PAT-4499-C, PAT-3202-I, PAT-4493-C, PAT-4493-E, PAT-4497-C

*patterns not shown to scale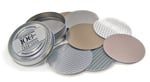 Request a disc collection to begin exploring the variety of finishes available for panels, overlays and decorative trim.