Authentic Machined Aluminum Finishes
Machined finishes traveling across the surface in a serpentine manner. A smooth straight line that bursts into motion. Carefully placed miniature spins all designed with the end application in mind.
(from left to right, top to bottom)


NEC-124-B, NEC-123-B, NEC-114-I, NEC-125-A, DES-148-C, NEC-121-A

*patterns not shown to scale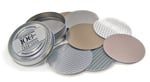 Request a disc collection to begin exploring the variety of finishes available for panels, overlays and decorative trim.