Evolving Aluminum Finish used in Nameplate Design
There has been considerable interest in shape-shifting finishes on aluminum. We have seen this trend in finishes that evolve across a larger piece of trim.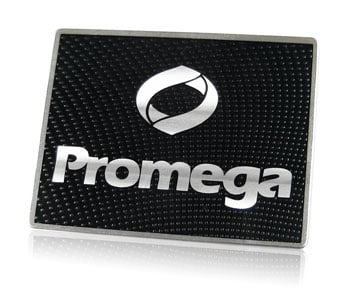 Here's an example of a shape-shifting pattern used on a small nameplate. The simple dot pattern evovles and shifts across the background, giving a sense of movement and added depth. When combined over a gloss black, the contrasting silver engine striped logo appears to float on top of the background, giving this flat nameplate quite a bit of depth.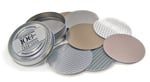 The designer disc collection features a cross-section of finishes on aluminum. It begins to illustrates the versatility of aluminum as a decorative substrate. The pattern samples are labeled for easy identification. The discs are useful when designing a custom finish. Request a disc collection to begin exploring the variety of textures and finishes available for nameplates and labels.