5 Options in Silver on Silver Nameplates for your Brand Identity
Silver Shimmers | Aluminum
All that glitters is not gold, and that is certainly true of this group of aluminum nameplates. The metallic surface of aluminum is naturally a silvery color. Decorative processes ranging from spinning and brushing to printing and etching expand the palette of silver options when designing a nameplate or label.
Silver is a neutral color coordinating with all other colors. Silver can seem warm, cold, modern or traditional depending on how it is used. This versatility is what makes it an attractive option when building your brand identity.
Options in Silver on Silver Nameplates
The silver on silver look for product branding has been used in cosmetics, consumer electronics, appliances and automobiles. A quick look at our collection of nameplate samples and you begin to see the popularity of silver. However, even once you have focused in on using silver in your color scheme, there are still a diverse group of options available to you. This article explores some of the options available to you in designing a tone on tone silver nameplate.
Bright aluminum background with coined graphics
Matte aluminum background with embossed bright graphics
Metallic background with embossed bright graphics
Brushed aluminum with deep etched graphics
Brushed aluminum background with bright aluminum graphics
Bright Aluminum Background with Coined Graphics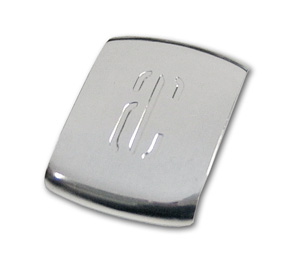 The elegant look for this label relies primarily on the bright aluminum surface. A subtle recessed graphic is created through coining, a tooling process.
Matte Aluminum Background with Embossed Bright Graphics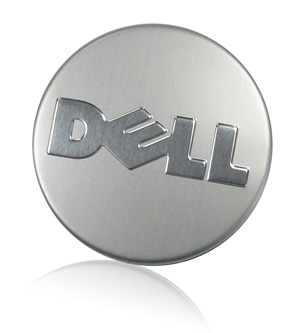 The matte background effect on the Dell emblem relies on a screen printing process. The bright graphics are further defined by embossing.
Metallic Background with Embossed Bright Graphics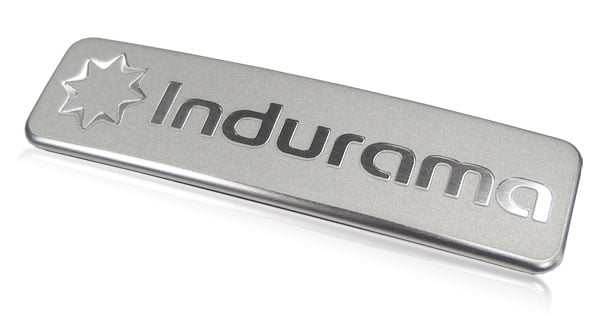 The metallic surface in the background of the Indurama nameplate is often referred to as a sandblast finish. The matte finish has a slight visual texture.
Brushed Aluminum with Deep Etched Graphics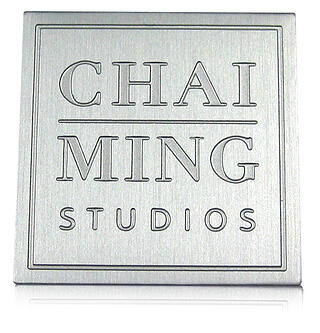 Deep etch is a chemical process to remove some of the surface of the aluminum, leaving those areas with a matte finish. It also provides slight depth without added tooling cost.
Brushed Aluminum with Bright Aluminum Graphics

The surface of bright aluminum can be selectively decorated with a brushed finish to create contrast between background and graphics as seen in this nameplate. The graphics appear to be on a different visual pane so there is perceived depth and dimension. A subtle printed drop shadow enhances this look.
Versatility in Aluminum Decoration
Silver on silver product branding is complimentary to a wide variety of products. Additional mechanical options include spin, engine turn and engine stripe. Sandblast effects are available from in an array of finishes. High, medium or low gloss topcoats alter the look of each of the finishes. Samples are available to help explore the options available to you in creating your product branding.
Are you looking for a two-tone look for your next nameplate design? Let's talk!
Subscribe to Nameplate Blog