Environmental Management System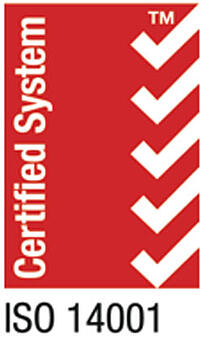 The natural beauty of the Midwest is as striking today as it was over 105 years ago when Northern Engraving was founded. We treasure this natural environment and promote conservation, recycling and efficient use of energy throughout our facilities to minimize the impact on the environment and to reduce operating costs.
Northern Engraving manufacturing facilities located at Sparta, Holmen and West Salem in Wisconsin along with the Spring Grove, Minnesota facility are registered to the international environmental standard, ISO 14001:2015. Our management system is based on areas of focus including environmental, quality and safety. This includes processes to identify and adhere to customer specific environmental requirements such as IMDS reporting and RoHS compliance.
Northern Engraving is committed to continual environmental improvement. Central to this commitment is maintaining a robust environmental management system following the ISO 14001 standard. This system gives our manufacturing sites the tools needed to analyze environmental impacts, set objectives and targets, develop supporting programs, review results and redirect efforts. Employee involvement at all levels is a key component in the ongoing success experienced by each facility.
Corporate registration is maintained through successful annual audits from the third-party registrar SAI Global.
Environmental Certification
ISO 14001 Certification
Environmental Policy Key Points
Continual Improvement

Meet Environmental Obligations

Reduce Waste
2019 Environmental Objectives and Targets - Results
Sparta, WI




Objective 1 : Improve Plant Lighting

LED bulbs replace fluorescent bulbs in Factory office and scrap room. Some LED lights were trialed in the Tool room. The light output was acceptable. The lighting was replaced. Approximately 360 LED bulbs were installed.





This objective is a continuation of prior years effort to conserver energy

Objective 2 : Optimize New Production Cells to Minimize Environmental Impacts

A new production part group was developed. Processing of the over cover part was modified to reduce the number of times through the lithographic press from three to one and also to eliminate one of the times the part was coated. This resulted in less material usage, less VOC emissions and less energy to make the parts.




A production cell was created to sequence the process steps through punch pressing, washing, inspection, and packing to ship. The cell requires less part handling, packaging for in-plant moving so less rejects caused by packaging.




The plant production area was mapped for the current work flow. A revised work flow was mapped for increased efficiency going forward.

Other Environmental :

Solid waste was disposed at a landfill. Sending the waste to Xcel Energy's refuse derived fuel (RDF) facility was investigated. The transporter agreed to haul to the RDF facility. A trial shipment occurred in July with Northern Engraving and Xcel observers. The shipment processing went well. Solid waste continues to be routed to the Xcel RDF with a total of 32 tons diverted from landfilling July through the end of 2019.





Instead of using land resources by landfilling solid waste, the waste is an input to the generation of electricity.

Holmen

, WI

Objective 1 : Improve C1UG Product Yield

Holmen facility began processing a three part program for C1UG in 2019. Processing began with brushed sheet aluminum. Numerious punch pressing steps occurred for sizing and shaping into the trim parts, a driver, passenger and center panel. Wrinkling and cracking was a problem, especially with the center part which underwent significant shaping to achieve the finished shape. Yield improvement efforts included focused support by Corporate Tool Engineering. The die was modified. Part grippers were installed. Dies were removed and sent for sharpening. The end of year outcome was a 3-5+% increase in yield for the driver and passenger parts and a continuing fluctuation in the center part yield.

Objective 2 :

Reduce Facility Energy Usage by installing 600 LED Bulbs

The objective was met. A total of 780 LEDs were installed.

Objective 3 :

Promote Energy Conservation to Employees

Energy saving facts and tips were posted in the lunchroom for employee viewing. Monthly themes included saving energy in the garage, while traveling, landscaping and home energy efficiency. The energy saving tips were also mentioned in department meetings.

West Salem

, WI




Objective 1 :

Reduce Facility Energy Use Through Continued Lighting Improvements

LED lighting was trialed in the coating area and determined to meet lighting requirements for color and intensity.





Focus on facility cleaning, setting up robotic lines and evaluating process locations within the facility halted further lighting changes.

Objective 2 :

Reduce Facility Water Usage by Reusing Reverse Osmosis (RO) Reject Water

Piping was installed to connect the RO reject water discharge to a tote for use when neutralizing the sheet prep wastewater. About 30,000 gallons of water was reused from installation to end of year.

Spring Grove, MN

Objective 1 : Reduce Facility Energy Use

Replace 8 foot fluorescent lights with 4 foot LEDs, three in toolroom, one in molding. Boilers were set on low-fire on second shift unless high-fire was needed.

Objective 2 : Improve Plant Product Yield to 80%

Yield improvement efforts included die sharpening to reduce slug rejects. A quality inspection was added following the blanking process. Adhesive was applied with one edge raw to reduce slugs. Artwork for three jobs was changed to only print on the show area of the part to aid with in-line inspection. Pierce die was modified to reduce cracking in the inside corner of the part. Part inspectors specified on chart areas for improvement. Preventative maintenance was done on tools prior to new part program launch. Yield fluctuated this year. Although effort occurred, the objective was not achieved, December's yield was 66%.

Other Environmental:

Artwork revision on three jobs resulted in a 50% reduction in ink waste from those jobs.
2020 Environmental Objectives and Targets
Sparta, WI

Reduce Facility Energy by Installing 1,000 LED lamps

Reduce Contaminate Level of Water Discharge to POTW

Reduce number of High Strength Water Discharge levels for BOD>270 mg/l and Total Suspended Solids >252 mg/l to 50% of CY 2019

Reduce Total Phosphorus discharge to below the High Strength Discharge level 3.67 mg/l





Both of these objectives relate to aspects that have significant impacts.

Holmen, WI

Reduce Facility Energy Usage by installing 650 bulbs

Achieve and Maintain 66% C1UG Center Panel Yield

Promote Energy Conservation to Employees

West Salem, WI

Reduce total Suspended Solids in Water Discharge

Reduce Facility Water Usage. Investigate water usage in washers.

Spring Grove, MN

Reduce Facility Water Usage. Evaluate molding machine water usage.

Promote Energy Conservation to Employees