Environmental Management System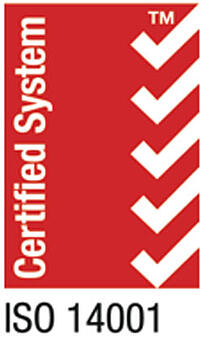 The natural beauty of the Midwest is as striking today as it was over 105 years ago when Northern Engraving was founded. We treasure this natural environment and promote conservation, recycling and efficient use of energy throughout our facilities to minimize the impact on the environment and to reduce operating costs.
Northern Engraving manufacturing facilities located at Sparta, Holmen and West Salem in Wisconsin along with the Spring Grove, Minnesota facility are registered to the international environmental standard, ISO 14001:2015. Our management system is based on areas of focus including environmental, quality and safety. This includes processes to identify and adhere to customer specific environmental requirements such as IMDS reporting and RoHS compliance.
Northern Engraving is committed to continual environmental improvement. Central to this commitment is maintaining a robust environmental management system following the ISO 14001 standard. This system gives our manufacturing sites the tools needed to analyze environmental impacts, set objectives and targets, develop supporting programs, review results and redirect efforts. Employee involvement at all levels is a key component in the ongoing success experienced by each facility.
Corporate registration is maintained through successful annual audits from the third-party registrar SAI Global.
Environmental Certification
ISO 14001 Certification
Environmental Policy Key Points
Continual Improvement

Meet Environmental Obligations

Reduce Waste
2018 Environmental Objectives and Targets - Results
Sparta, WI




Objective 1 : Improve plant product yield, reduce reject rate to YTD Average of 18% by end of CY2018

Yield improvement activities included adding form fixtures to eliminate rejects caused by distorting the mask when assembling. Charting and root cause analysis was conducted and displayed for scrap jobs. A new spin machine with better registration was installed. Packaging options were reviewed to reduce scratches. Samples were agreed upon by customers for acceptance boundaries. A clear liner was replaced with a blue one to help with visual inspection. Although effort occurred, the average reject rate for the year was 18.56%, no change from 2017.

Objective 2 : Reduce ink waste by 5% 2018 vs 2017

Ink usage was reviewed. Better ink mixing practices were implemented-only mixing for immediate scheduled needs. Inks reuse was investigated and an ink filtering program was put in place for specific colors. 149 gallons of ink were filtered for reuse. ink waste was reduced by 33%.

Other Environmental :

With a contractor associated with Focus on Energy, an LED bulb sale was held allowing employees to purchase LED bulbs at discounted prices. To promote participation, Northern also gave a $2 cash rebate to employees making purchases. 1,250 items (LED bulbs and power strips) were purchased.

Holmen

, WI

Objective 1 : Maintain plant product yield at 92% YTD average

Yield improvement efforts included installing a reflector sensor system to sense a specific component on the assembled part. Pins were added to a process machine. Part trays were modified so rejects wouldn't occur from parts contacting other parts. For some parts, an additional process step was added to fully cure parts. A new temperature controller was installed on process equipment for exact temperature monitoring. The plant product yield of 92% was maintained.

Objective 2 :

Reduce facility energy

The facility's old Quincy air compressor was replaced with a new 100 h.p. Gardner Denver air compressor with oil, water separator and variable displacement. Energy conservation was promoted to employees via a bulb sale. An LED bulb sale was held allowing purchase of LEDs at discounted prices, a $2 cash rebate was given to employees making purchases. 645 items were purchased. Energy conservation information/tips for employees are posted monthly.

West Salem

, WI

Objective 1 :

Reduce soap concentration in sheet prep area to 3-5%

Metal sheets were cleaned in a washer using a high pH corrosive soap at 5-8% concentration. The process was reviewed and information from the soap supplier was obtained. The soap concentration was lowered to 4-6%. Monitoring and testing occurred with good results. The concentration was lowered to 3-5% successfully. The overall change of concentration resulted in greater than a 30% reduction in soap usage and less acid usage for tank neutralization.

Objective 2 : Improve plant product yield by 5%

Many yield improvement activities occurred. To reduce scratch rejects, the number of sheets per stack on sheet trays were reduced. Sheet trays were also modified for easier use. Additional visual aids for part inspection throughout the manufacturing steps were put in place. More error proofing equipment was installed. Facility areas were reviewed. Equipment and materials not needed were removed, areas were cleaned and rearranged. Process areas were separated by flexible curtains. Work instructions were reviewed and revised. Training was conducted. Although many activities were undertaken, the overall plant yield did not improve.

Objective 3 : Reduce plant energy use by changing over to LED lighting with priority in Punch Press. Promote LED usage to employees.

The facility participated in a Focus on Energy lighting improvement incentive program. 596 LED bulbs wee installed as replacements in plant areas. An LED bulb sale was sponsored allowing employees to purchase LED bulbs at discounted prices. Northern Engraving gave $2 cash rebate to employees making purchases. 833 items purchased.

Spring Grove, MN

Objective 1 :

Improve plant product yield. Achieve 80% plant yield by end of 3rd quarter.

Yield improvement efforts included oven cleaning and floor sealing in screening and coating areas. LA console form die was modified to prevent misforming during assembly. Tooling was revised for skirt length, heat stake nest was modified to eliminate contact with top edge of part. Adhesive machine was modified to reduce slug/damage rejects. Although effort occurred, the plant yield of 80% by end of 3rd quarter was not achieved.

Objective 2 : Reduce facility energy use by 3rd quarter

Equipment, UV lights and omnibonders were shut off when not in use. Controllers were added to outside lights, 5S activities occurred. There was a 12% reduction in electricity usage at end of 3rd Qtr. YTD 2018 vs end of 3rd Qtr. YTD 2017. Natural gas/propane MMBtu's dropped 19% comparing 2018 3 quarters to 2017 quarters.

Other Environmental:

Water flow controllers were installed on 3 washers, 2 omnibonders and all 11 hydraulic presses.
2019 Environmental Objectives and Targets
Sparta, WI

Improve plant lighting

Optimize new production cells to minimize environmental impacts

Holmen, WI

Improve C1UG Product Yield

Reduce facility energy usage by installing 600 LED bulbs

Promote energy conservation to employees

West Salem, WI

Reduce facility energy use through continued lighting improvements

Reduce facility water usage by reusing reverse osmosis (RO) reject water

Spring Grove, MN

Improve plant production yield; Achieve 80% plant yield

Reduce facility energy use