Professional Eye Care Equipment Nameplates
Eye surgeons look to Alcon Retina for ophthalmic surgical products, enabling them to achieve optimal results for their patients. Eye care equipment and devices featuring state of the art technology require product branding that represents the quality and innovation behind the brand.
Numerous options are available to equipment manufacturers designing an aluminum nameplate. We can help in the decision process providing samples, recommendations, concept drawings and prototypes. Each nameplate is custom designed to represent the individual brand. Mechanical finishes, printing, embossing and doming are some of the processes available to be combined into a label or emblem.

The Purepoint Laser nameplate uses a combination of spin and printed halftones to add movement and a look of precision to the nameplate. The combination of embossed white graphics on a matte silver background creates a clean look.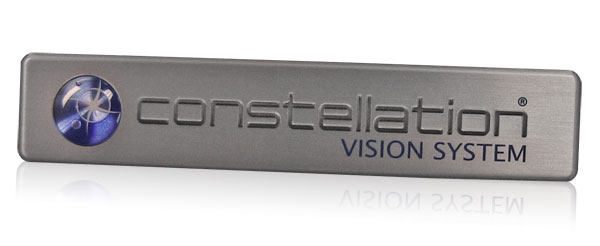 In contrast, the Constellation Vision System nameplate uses a different approach with a very similar logo. Both nameplates feature a circular graphic in the logo highlighted in unique ways. The Constellation nameplate layers a dome on the spin and printed halftone adding a jewel-like accent.
Using an off center spin on a rectangular nameplate is a unique detail made even more attention getting with a selective dome. Both nameplates stand out among nameplate samples because of these details.
Do these nameplates inspire you to consider using a spin or a dome in a different way on your next design? What ideas come to mind?
Subscribe to Nameplate Blog