Favorite Nameplate | Antiqued Metal
Guest Blogger
This is the second article in a series of posts featuring notes from my co-workers on their favorite nameplate. Northern Engraving employees, see the results of our daily efforts in our automobiles, our homes and on the retail floor. It gives us a sense of pride to see our part in a diverse range of products sold around the world. The domed nameplate that our guest blogger, Kevin Rink, writes about is one example.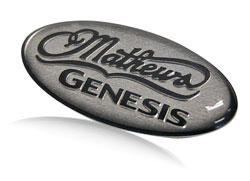 As an owner of Mathews products, I know they are made from the best materials, are rated very high, and perform well under extreme conditions. They also need to identify and protect their product with a durable long lasting badge such as the Mathews Genesis. This decorative badge combines a "weathered" brushed aluminum look with functionality obtained by the domed material. The domed material acts as a magnifying glass, which adds clarity and protection to the Mathews name for many years. The name stands out and compliments the finished product. The Mathews name appears to float in the three dimensional matrix. This badge can handle the rugged conditions experienced in both interior and exterior environments, while maintaining an elegance worthy of the Mathews name. The graphics, while
very crisp and clear, seem to flow with the
geometry of the badge, thus providing more depth to the entire logo.
This badge is produced in such a way that it will blend in and yet stand out on the finished product. In a competitive international market, one needs to broadcast yet preserve their name for others to recognize for the life of the product.
Kevin Rink Process Chemist

Kevin works in the Northern Engraving Central Lab. He is responsible for research and development of new inks and coatings.
Subscribe to Nameplate Blog