Domed Label and Tag Manufacturing
Domed Labels and Stickers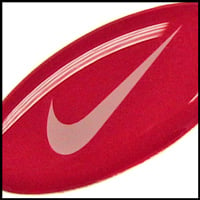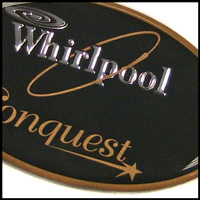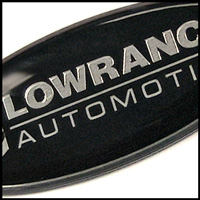 Doming protects a printed label while giving the label a three-dimensional look. Domed labels are a simple and cost effective way to make your company logo or product name pop. You will find domed nameplates and labels used on consumer products, vehicles, POP displays and anywhere else a durable attention-getting graphic is needed. The three-dimensional lens is durable enough for indoor or outdoor applications.
Domed Label Printing
Doming is available in custom shapes and sizes on metal and plastic substrates. Whether incorporated into prototype or large production runs it is the final step in the decorating process. The crystal clear lens is layered over transparent, opaque and metallic inks on a wide range of background finishes including: bright aluminum, chrome polyester, brush and white.
Standard Domed Label Process
Dome: The top layer or dome is a liquid polyurethane poured over the label and cured into a crystal clear lens. The liquid flows to the edge of the part creating the domed effect. Tight corners and radiuses should be avoided.
Decoration: Colors are printed on the substrate using digital printing, lithography and screen printing. Options include transparent, opaque and metallic colors.
Substrate Material: Metal and plastic substrates are available. Aluminum is the preferred metal substrate because of the range of decorative processes available. Standard plastic substrates include: polycarbonate, polyester and vinyl.
Adhesive: Our standard is a 2 or 4 mil acrylic permanent adhesive providing adhesion to a wide range of surfaces including metals and most plastics.
Liner: Clear poly liners protect the adhesive until final application. The finished parts ship on flat sheets, as individual parts or on rolls.

How can we help with your label design? Let's talk!
Subscribe to Nameplate Blog