Domed Chrome Polyester Emblems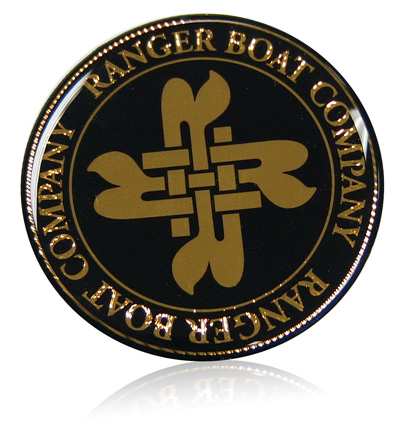 Domed emblems are a durable attention getting option for product branding. The Ranger Boat emblem layers a flexible urethane dome on chrome polyester for a dimensional label which stands up to harsh weather elements. The logo and graphics are embossed in the reflective material creating natural highlights. The highlights are magnified by the three dimensional urethane dome. Domed labels and emblems are self adhesive applied to products in markets ranging from appliance and automotive to sporting equipment and cosmetic packaging.
Flexible Domed Labels and Emblems
Combining flexible substrates with a flexible urethane dome process results in a versatile nameplate. Advantages and options in flexible domed decals, labels and emblems include:
Low Tooling Costs - Cost effective branding
Flexible - Application to flat or contoured surfaces
Interior/Exterior Quality - UV resistant, waterproof, and abrasion resistant
Three Dimensional-

Radiused

edge with lens effect
Self adhesive - NECAL or 3M
Custom Shape - Circles, ovals, rectangles and more
Raised Graphics - Embossed logos and patterns
Custom Colors - Opaque, transparent and metallic
Flexible Domed Label Substrates
A variety of flexible plastic substrates are available to be integrated into domed emblems. Some of the material options available to you in 3D labels are:
Polycarbonate - clear
Polyester - chrome, brushed, white, rainbow
Vinyl - black, white
What ideas do you have for creating an attractive domed emblem? Get creative. Any size, shape or color.
Subscribe to Nameplate Blog