Brushed Chrome Polyester Labels
TaylorMade

Golf Club Shaft Label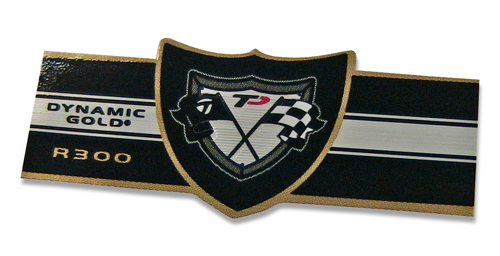 The challenge in designing a shaft label is to create an attention getting design in a very small area. The label itself must be flexible. A brushed chrome polyester substrate is the perfect match for this challenge. The flexible label is printed with UV inks giving these custom decals exceptional outdoor durability. A custom shape emphasizes the TaylorMade brand. A brushed chrome surface draws attention to the design while embossed details add interest.
Aluminum Emblem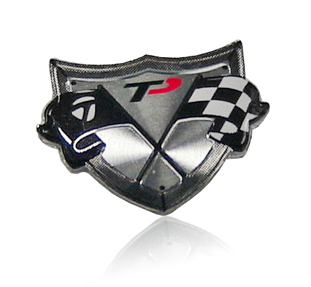 This coordinating emblem carries the design across an aluminum substrate. A spin in the background of the emblem adds movement to the nameplate. Fine graphics are printed and embossed to register. The parts are shipped on a strip to facilitate assembly to the golf clubs.
Flexible labels are available in a wide variety of substrates. Chrome polyester labels are attractive and coordinate with aluminum emblems. This is an important consideration when designing a product with multiple nameplates, labels, badges or emblems. The advantage in working with one supplier for both substrates is that the look can be coordinated during the manufacturing process.
Have you coordinated a product brand across flexible and metal substrates? What substrates or processes helped to make this effort a success?
Subscribe to Nameplate Blog