Nameplate Archive: Small Appliance Trim
Metal Appliance Trim
Two of my favorite parts in our display celebrating our hundredth anniversary are the Oster metal overlays. Their design is characteristic of the colors and graphics of the mid-twentieth century. One glance and the eye-catching retro style has your attention.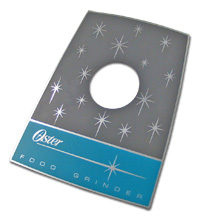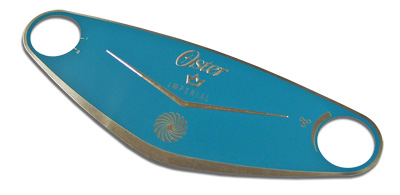 You can follow changes in our culture and product design by looking at the nameplates and overlays of that time period. Products make their entrance on the market as new technologies become available. Brands grow, evolve and fade away. It is interesting to look back over the years at the product identification for various markets and brands.
Oster

Trim Then and Now
Contemporary Classic Beehive Blender Escutcheon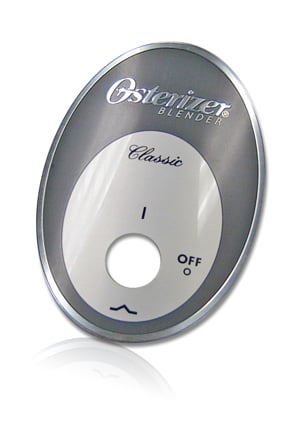 This metal escutcheon was one of the very first nameplates that I worked on when I started my career many years ago at Northern Engraving. The simple clean aluminum design is still in use today on the classic beehive blender.
Blender and Food Processor Overlays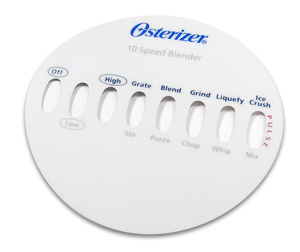 The polycarbonate overlays for blenders and food processors are another example of a functional overlay.
Metal and Plastic Trim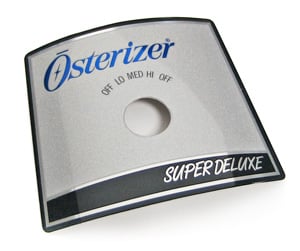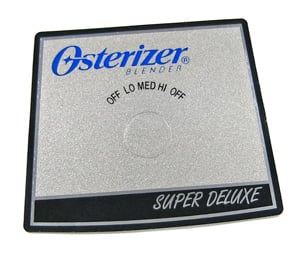 The two escutcheons featured here are unique in that one is manufactured on aluminum and the other on chrome polyester. Both feature a printed metallic silver background with a chrome accent bead. The metal nameplate is formed and applied with a pressure sensitive adhesive. The plastic label is flexible and also applied with a pressure sensitive adhesive.
Do you have any nameplates that bring back memories from a first project or of a shiny new technology?
Subscribe to Nameplate Blog