Domed Label Stands up to Exterior Application
Durable Exterior Application
A common concern when designing nameplates and labels is durability. This especially true if the product will be exposed to the elements - rain, snow, hot or cold temperatures, and sunlight. Certainly it is important to communicate these areas during discussion and review of your project so that appropriate inks, coatings and processes are taken into consideration. The more that is understood for the type of environment and application that the decal will be used in, the better the outcome with an attractive and durable label for your design. A variety of tests are performed on a routine basis for continued positive results.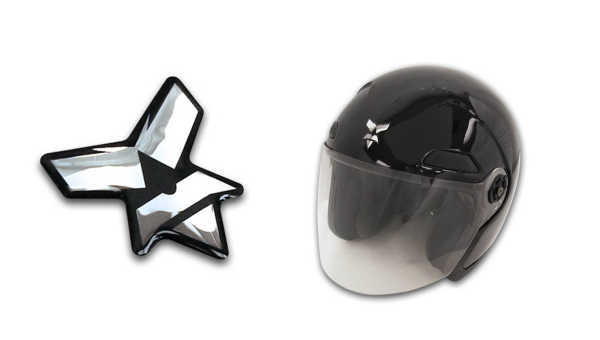 In the image above the contoured surface of the motorcycle helmet is met with a flexible bright chrome mylar substrate for an attractive metal looking label. It will not lose its appeal over time and after exposure to the elements. The unique shape draws attention to the brand. Height and dimension are achieved with Flexlens, an overall urethane domed surface.
Benefits of the Doming Process
● Durable - stands up to exposure to the elements in outdoor settings
● Self-Healing - chemical and abrasion resistant
● Versatile - appropriate for interior or exterior applications
● Visual Depth - adds dimension, height and jewel-like appearance
Where could you use doming? We can help figure it out!
Subscribe to Nameplate Blog