How to Grab Attention with Embossed Chrome Polyester Labels
Grab Attention with Embossed Chrome Polyester Labels
What do you get when you combine a decorated matte black background with embossed bright chrome polyester material? This super cute label! It caught my eye for its small size and contrast between the brightness of the material and the low gloss background. The design is clean, keeping your visual focus on the logo.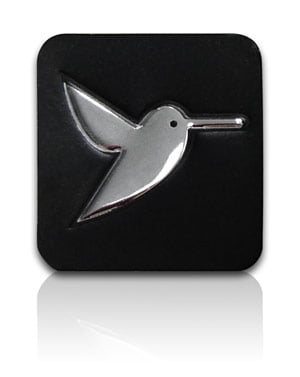 Chrome Polyester
Polyester is a plastic substrate, commonly available as bright or brushed chrome, white or prismatic/rainbow colors as well as clear. This makes it very versatile and friendly for label designs. In this example, the bright chrome material was chosen for its ability to look like metal and conform to the slight contour of the end product. A custom emboss tool highlights the hummingbird logo. The matte black background blends with the product housing for a finished look. The label functions as the overlay for the eject button to release your electronic device when charging is complete.

Full product photo credit: Smart Keitai
Now that you know it is possible to achieve an attractive label that grabs attention using chrome polyester, you can explore potential to use this for your next design. Enhance your plastic decal with a chrome metal look.
Ready to review further? Great! Let's talk!
Subscribe to Nameplate Blog