Small Domed Label Enhances Key Fob Design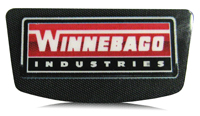 Are you unsure how to best represet your brand on a small scale? If so, there are many options available to incorporate any sized label or tag.
The example above is applied to a key fob manufactured for the Winnebago motor home brand. At only about an inch wide, this small domed label boasts dimensional detail. Through the printing and doming processes the design takes shape. It begins as a flat one-dimensional plastic substrate, and is given height and detail through the doming process. The dome gives the appearance of a three-dimensional surface, allowing for a jewel-like focal point. The label is also backed with adhesive for easy assembly onto the key.
What applications do you have for a small domed label?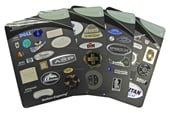 Request a Nameplate Materials and Processes Guide to begin exploring the options available to you in creating your product branding, no matter the size!
Subscribe to Nameplate Blog