Nameplate and Label Options with Selective Doming
Have you ever been challenged with making a key part of your of your nameplate or product branding stand out? If so, you are not alone. There are numerous options to consider from diamond cutting and embossing to mechanical finishes and doming. Some nameplates are designed to give the illusion of one part fused to another. This unique process, selective doming, is desired by customers looking to set their brand apart from the competition.
Selective doming is a process in which a nameplate or label has a clear lens applied to a selected area. This application gives the illusion of a secondary piece assembled to the original nameplate, creating a dimensional, jewel-like, focal point.
Some commonly asked questions and answers about the process include:
What are the available substrate options?

A nameplate or badge with the selective doming can be created on both aluminum and flexible plastic substrates.
Can I still utilize the finish and color options in my original design?

Absolutely - the addition of color or texture will only be enhanced with the addition of a dome.
Below are a few examples of nameplates with the selective doming application.
Polycarbonate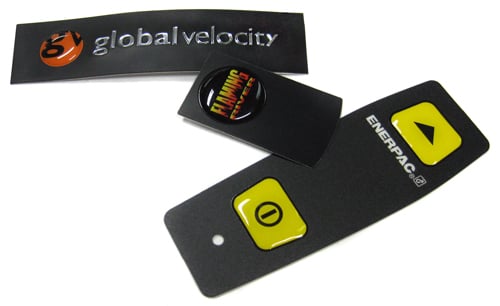 Aluminum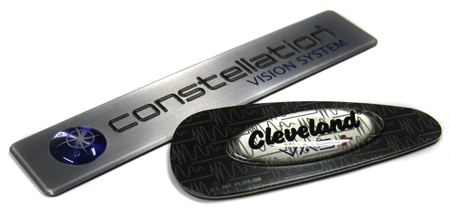 Whether working on metal or flexible substrates, selective doming is an eye-catching option for adding a rich three-dimensional look to your product branding while highlighting key areas. The durable urethane dome is a polished way to differentiate everything from electronics and sporting goods to cosmetics and appliances.
Subscribe to Nameplate Blog