Durable Domed Label | Guest Blogger
Our guest post this week comes from Jerry Chenoweth, Regional Sales Manager. His experience working with the product development manager and engineers on this project gave him a new perspective on the car battery industry and the complexity of the product specification.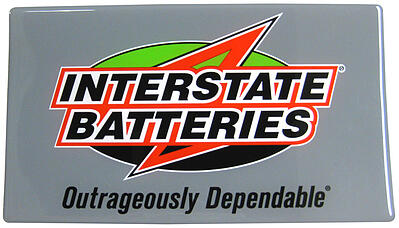 Car batteries tend to look very similar on the store shelf. Most have a vinyl label containing the company's logo. Interstate Batteries wanted to step up the look with a label that reflected the premium quality of their batteries. The prerequisites for this label were numerous. It needed to withstand its environment and adhere well to the battery. The label needed to have a quality look that stood-out on the shelf while providing an economical option.
Northern Engraving offers numerous constructions for labels and nameplates. The pros and cons as well as cost of several possible constructions were considered, but in the end the doming process was chosen for this application. Doming gives the look of added substance and depth and makes it more eye-catching than the myriad of vinyl labels on the competitor's batteries. Northern Engraving's engineers were able to specify an adhesive that worked well for this tricky application. Last, but certainly not least, it was within their budget.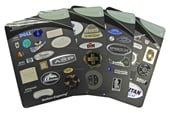 Request a Nameplate Materials and Processes Guide to begin exploring the options available to you in creating your product branding.
Subscribe to Nameplate Blog